Workshops and seminars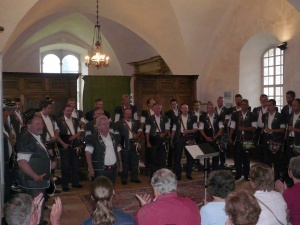 La Part-Dieu has opened its doors to seminars, workshops, meditation in group or for single, botanical, painting and music courses, concerts, yoga, tai-chi and qi gong. The festival "Altitudes" takes place every 3rd year with exhibitions, theatre rehearsals and various art ateliers.
The infrastructure allows housing up to 30 persons. Historic rooms as the former kitchen of the monks, the refectory, the parlour, the office and the vast 130m2 hall above the church are for the groups disposal. A large green courtyard with chickens, ducks and peacocks as well as a large park with forest and ponds invite the participants to relax or simply gathering one's strength
We are open for new activities! Should you be interested in organising a course or a special event we are ready to discuss with you the details of the cooperation. Please address your requests to:  partdieu1307@hotmail.com.