History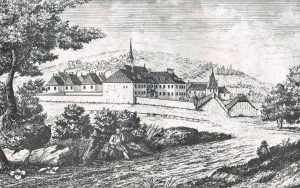 The Carthusian monastery of La Part-Dieu, founded in 1307 by the family of the counts of Gruyère, hosted the Carthusian order until 1848. During these years the community lived peacefully on their own, the income of their surrounding farms, forests and pastures reaching up to the top of the Moléson.
In the year 1790 forty-one monks sought refuge from the French revolution. In 1813 the prior of la Part-Dieu, Dom Romuald Moissonnier, became the head of the Carthusian order and returned to the "Grande Chartreuse"next to Grenoble to restore the buildings and order in France.
Dom Jean-Joseph Hermann who was procurator of the Part-Dieu from 1817 to 1821 was a monk very technically gifted. He developed instruments for measuring distances, left plans for a wind saw and several astronomical clocks. The Comtoise clock he built in 1798 shows the hours, minutes, days of the week, phases of the moon and signs of the zodiac, has 10 alarm-clocks with different soundings and is still in the Musée Gruérien at Bulle.
After the Swiss wars of 1848 the Carthusian monastery was secularized and then abandoned for 8 years. Since the year 1871 many generations of the Clavel family have taken care for the maintenance of this protected historical monument.